Bonus workbooks: Ideal customer profile template, ICP checklist, PDF copy of this guide + in-depths questionnaire for customer interviews.
In this guide, I'm going to show you a proven framework on how to create an ideal customer profile (or ICP) for a B2B company.
This is the exact process we used to:
Improve client positioning, so they were perceived as niche industry experts.

Create a hyper-targeted list of B2B prospects that are likely to buy their product

Generate $300k in sales opportunities with a pilot ABM campaign
I'll also share with you a copy of the ICP template I use and The Diver Survey Method to collect valuable insights about your customers.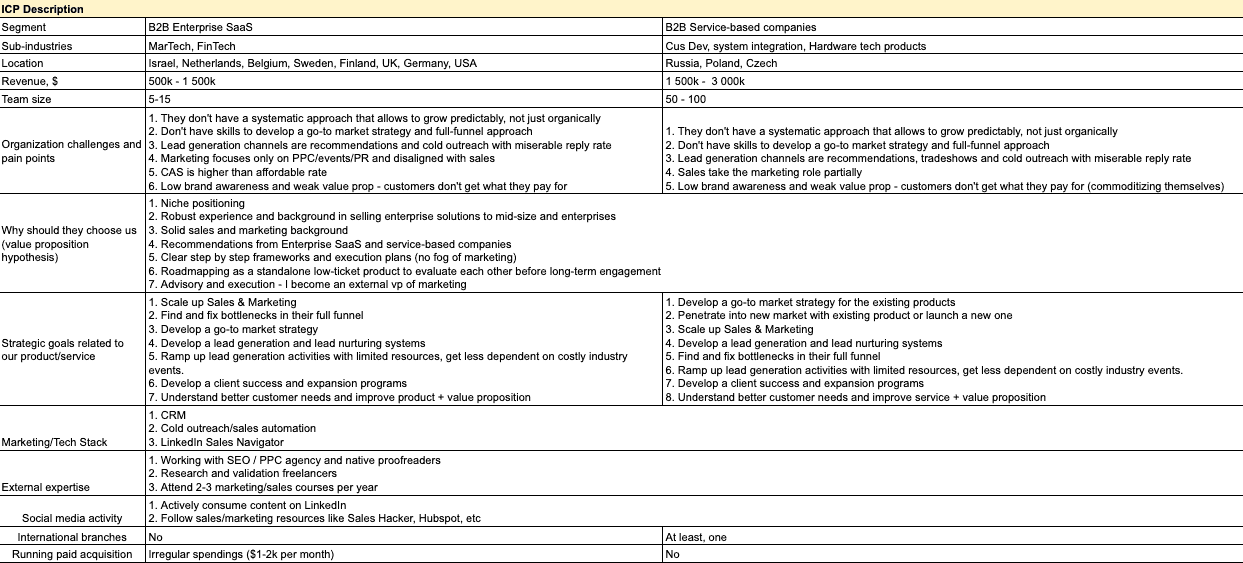 The kicker?
This client operates in a highly competitive space (software development) where they used to be a "one size fits all" vendor for many years.
So let's dive right in.
What is an ideal customer profile?
ICP is a list of attributes that your BEST customers from a SPECIFIC market segment have in common.
I emphasized BEST and SPECIFIC for several reasons:
1. Every segment has individual needs and different reasons why the companies from that segment buy your product.
2. All your customers are not created equal.
20% of your clients generate 80% of your revenue. Your ICP should be based on these clients.
The most common mistake B2B companies make is blending data from different segments and ending up with a broad definition of ICP.
As a result, they describe their ICP as "Startups from Boston that have raised money recently", "Round A SaaS companies", "European financial institutions".
Guess what happens next?
These companies become "Jack of all trades" vendor with a generic positioning that doesn't differentiate the company from the competition and rely heavily on outbound desperately trying to hit the sales quota.
The higher your ACV, the more precise should be your ICP. As simple as that.
Why do you need an ideal customer profile?
There are four purposes of the ideal customer profile.
1. Focus
ICP helps to align your marketing and sales team with what companies they should target instead of chasing everybody.
As a result, your company generates better sales opportunities with higher ACV and hit revenue targets.
2. Personalization.
Make your customers feel that your product was created exactly for them. This requires understanding customer jobs to be done, OKRs, goals, and challenges.
Next step – tailoring your positioning, website copy, content, ads, and landing pages to the collected insights.
3. Channels.
The fact that somebody tells you that TikTok or Snapchat is hot, doesn't mean your buyers are hanging out there, and you'd be there as well.
ICP helps to identify the exact channels your target buyers use for research, education, and communication.
Don't wear pink glasses thinking that senior execs with 10+ years of background hang out all day long on all the social media, and you just need to be everywhere to capture their attention.